It's hard to believe it's been a few years since Tribute Games released Mercenary Kings on PC and relevant consoles in 2014. It was a side-scrolling action game much like SNK's classic series Metal Slug but with some nicely added RPG elements added such as being able to earn, craft, and swap gear and such. While most players enjoyed the violent mayhem it brought, there was still plenty of room left for improvement, which brings us to the relaunching of it in Mercenary Kings: Reloaded Edition. If you enjoyed the first release or love these types of action titles, you'll want to reload and take the crown as top mercenary.
Those who haven't played the first one aren't missing much in the story department, as you select a character from a ragtag band of mercenaries and fight back against enemies while collecting money and parts to craft new weapons along the way. You can take the fight to them solo or with three other players in some split-screen, four player local co-op action. In this edition, there's two new characters thrown into the mix, Frigg who is the fastest jumper in the game no matter how heavy her equipment loadout is, and a robot named C-Zar that can slow his fall using built-in rocket thrusters. There's all sorts of ways for you to go around taking out your foes, from using your guns and other weapons such as planting C4, to using your trusty knife when enemies get too close for comfort. Speaking of weapons, this updated edition adds a ton of new weapons both ranged and melee that are sure to bring back original players while captivating new ones. Another sweet bonus to this version and updates is that they're free for those who purchased the original game as well.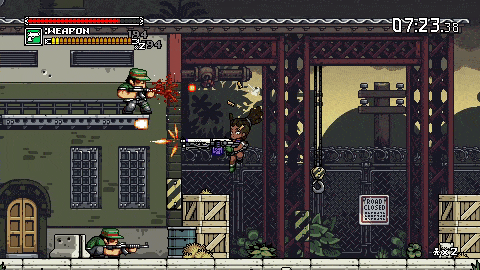 Some other neat things that have changed is the ability to buy crafting materials with the money you earn rather than being a slave to the grindstone and grind missions while hoping the materials you want/need drop. Another plus is being able to see what rewards you'll get in advance before starting a mission along with objectives now appearing on your mini-map, so no more running around like a headless chicken. As with most of these newer games, this one embraces the old school pixel look, but it works out pretty well as it looks to be more 16-bit than 8-bit. The sounds also match the action perfectly as fast-paced tunes keep you pumped while explosions and weaponry going off constantly keeps thing lively.
Mercenary Kings: Reloaded Edition has all the action that fans of the original game and newcomers that enjoy fast-paced side-scrolling gameplay will love. Thanks to so many improvements, added characters and weapons, and more little touch ups, this release is pretty much is a brand new game that's reloaded and ready for action when you are.